The State Cup knockout tournaments are conducted by Football NSW for Association based male and female club teams and Country Association representative or club teams. This tournament attracts over 500 entries each season and is an opportunity for club teams from all areas of Football NSW to compete against teams from outside their own Association.
GPFC has 10 teams entered in the 2018 tournaments. We wish all our teams the very best.
Draws and Results are as follows:
Final – 22 July
12/1 boys defeated Enfield Rovers 4-0
2018 Frank Broughton Cup Champions!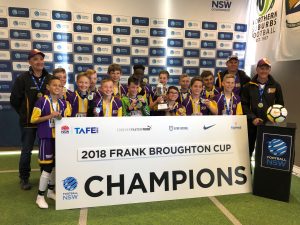 Semi Finals – 1 July
12/1 boys defeated Castle Hill 2-1
16/1 boys lost to Wakehurst FC 0-3
Quarter Finals – 17 June
12/1 Boys defeated Inter Lions 4-3
16/1 Boys (Black) defeated Kemps Creek 3-2
17/1 Boys lost to Moorebank 1-2
21 Men (IM/1) lost to Abbotsford Junior FC 0-1
Round of 16 – 3 June
12/1 Boys defeated Kemps Creek 2-0
16/1 Boys (Black) defeated Rooty Hill RSL FC 1-0
17/1 Boys defeated St Patrick Sutherland 2-1
18 Women (IW/1) lost to Leichardt Saints FC 0-3
21 Men (IM/1) defeated Banksia Tigers  FC 4-1
Round of 32 – 20 May
12/1 Boys defeated Woonona Junior FC 2-1
13/1 Boys lost to University of Wollongong JFC 1-2
16/1 Boys (Black) defeated Concord Junior SC 6-0
17/1 Boys defeated Greenacre Eagles FC 5-0
21 Men (IM/1) defeated Gymea United 3-2
Round of 64 – 6 May
12/1 Boys defeated Chatswood Rangers 5-2
13/1 Boys defeated Rockdale City Suns 11-0
14/1 Boys lost to West Ryde Rovers 0-2
15/1 Boys lost to Cooks River Titans 0-1
16/1 Boys (Black) defeated All Saints Oatley West 2-1
16/1 Boys (White) lost to St Augustine's 0-5
Preliminary Round – 29 April
AM Prem 1 lost to Enfield Rovers 2-6