UPDATED: May 3, 2021
For the 2022 season GPFC will be updating the player jerseys for all age groups. This comes at a significant cost, upwards of $100,000, and we need your help to make it happen!
To be able to do this, we are asking each GPFC family to sell 1 box of Cadbury Chocolates.
We are doing this in stages with U5-U7 able to start collecting from Saturday 8/5. We will have boxes available to collect each Saturday from the canteen.
Families can choose to collect the box and return the money when sold or make an upfront payment of $60, all money is to be returned to the canteen.
When the money is returned/paid up front, each family will get a ticket in a raffle for:
1st Prize – 10kg block of Cadbury Chocolate
2nd Prize – 4.5kg of Toblerone
Tickets for the raffle can also be purchased at the canteen, $2 each or 3 for $5. The raffle will be drawn on Saturday 17th July, half time of the Waratah's main game.
UPDATED: April 30, 2021
For the month of May, help spread awareness of Shoosh for Kids and encourage positive spectator behaviour.
Shoosh for Kids isn't about keeping quiet at a game – it's a reminder that, when it comes to junior sport if you haven't got anything nice to say, don't say anything at all. Let's keep the comments positive and keep kids coming back to sport!
More information can be found at www.sport.nsw.gov.au
#shooshforkids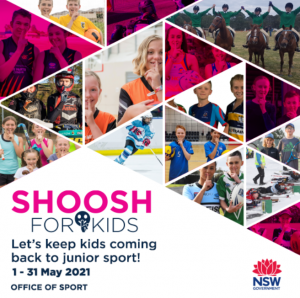 UPDATED: April 14, 2021
Please find attached the slide pack from the coaches and managers meeting U5 – U11 here.